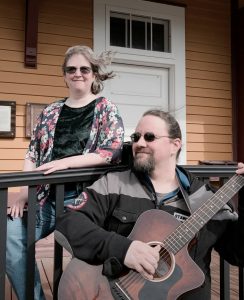 The Faithful Sidekicks are the husband and wife Geek Rock duo of Eric and Jen Distad.
They write and perform original songs about the things that interest them and have as much fun as possible in the process. Spanning a wide range of genres from alt rock to irish folk, there music is as eclectic as their subjects, which run from rock songs about board games to folk ballads about Star Trek. Their hope is that if they are having fun, you will have even more fun!
Eric plays guitar, bouzouki, mandolin and handles most of the lead vocals
Jen plays bass, concertina, mandolin, ukelele, extra percussion and adds backing vocals.
Together they make acoustic geek comedy rock to leave a smile on your face.
History
They have been entertaining audiences since 2004 as the Eric Distad Duo. The Eric Distad Duo primarily performs original Alt Folk songs penned by Eric during February Album Writing Month. For a few years the band expanded with the help of fellow FAWMer and all around great guy George Serumgard, and played music as Traitor Mouse. The Eric Distad Duo/Traitor Mouse performed a wide range of songs – some serious and some humorous, some geeky and some not.
In 2013, Eric and Jen decided to start writing together about the nerdy/geeky things that interest them. They are both big Sci/Fi and Fantasy fans, avid gamers – both Board and Video, as well as having a host of other interests.
It is said that you should write what you know – Eric and Jen wanted to write about (and gently poke fun at) what they love.
They decided to start a new "project" for these songs during FAWM 2014 and they called it the Faithful Sidekicks.